Hi all,
when I had the following idea, it was immediately clear to me that this could not be new.
And indeed, forum member
TM-MaxWiz
had posted it 10 years ago. Nevertheless, as it is a super simple mod (and thus compatible with my
woodworking skills), I decided to build it. Since I did not find another name, I called it "bridge cubes".
The idea is to build little bridges connecting the holes of a Rubik's game cube. In this way one cannot just
realize traditional bandaging, but also bandage for instance neighboring corners together.
By building bridges of different heights, it is also possible to control which bridges can pass beneath one another
and which cannot.
Besides the Rubik's game cube, I needed wood material that cost me less than 2 Euros at the local
DIY store. If you don't have a Rubik's game cube, you can also fill the cubies of a regular Rubik's cube
and drill holes.
Here are some example bridges I built: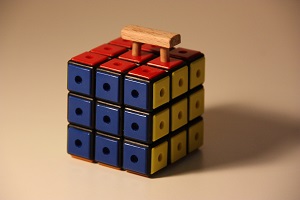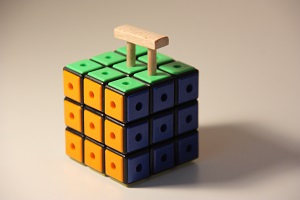 Tower Bridge and Siduhe Bridge (the highest bridge in the world)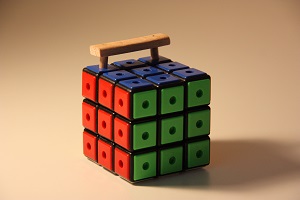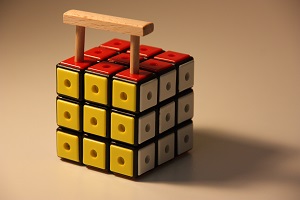 Golden Gate Bridge and Sydney Harbour Bridge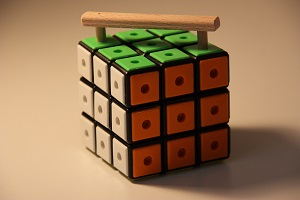 Oresund Bridge (The resulting cube has four bandaged corners and is similar to an edge-only cube.)
Notice that the Tower Bridge can go under the Sydney Harbour Bridge, whereas Siduhe Bridge cannot. In the midlle position, Golden Gate Bridge does not allow the central band to turn, so it acts effectively like a 1x1x3 bandaging across a face center. Clearly, it is also possible to build a bridge like it of medium height. A bridge connecting a corner to a center would be the equivalent of a 1x2x2 bandaged part of the cube. A further suggestion of TM-MaxWiz, namely to build poles that prevent individual cubies to pass under bridges, has not yet been built by me, but is on my TODO list.
Here are some basic examples of bridge cubes that you may want to try out: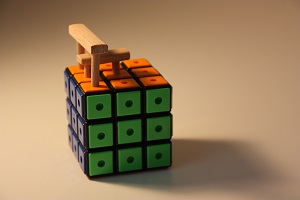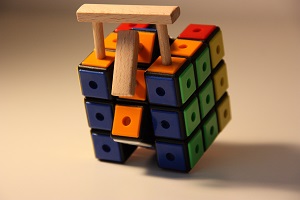 Bridge Cube, Type t ("Simple Crossing")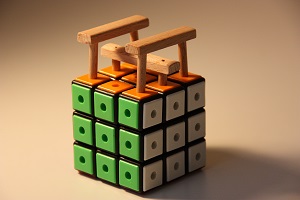 Bridge Cube, Type H ("Double Crossing")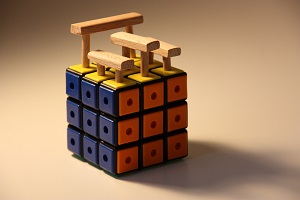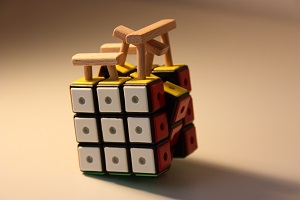 Bridge Cube, Type E ("Picnic Table")
Bridge Cube, Type HI ("Hello World")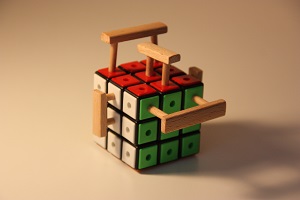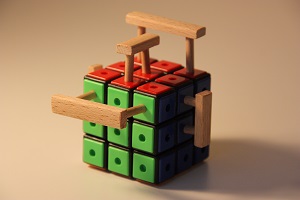 Bridge Cube, Type -
T
- ("Smiley")
When you are done playing with the bridge cubes, you can store everything nicely in the original Rubik's game cube packaging: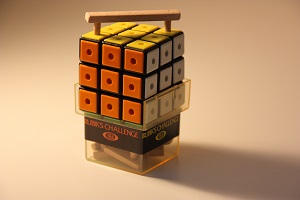 Enjoy,
Martin