Hey all, it has been too quiet in this thread for too long. Finally after almost a year and a great deal of help from Julian and GulityBystander I have finally finished searching and classifying all shortest Pentultimate corner 3-cycles. I could not have done this with the the help and insight from both of you so thank you very much!
If you ignore all re-orientation and symmetries there are 15 unique 3-cycle patterns. For each 3-cycle there are 9 different variations for each possible way the 3 corners can twist during the cycle. Because some of the 3-cycle patterns have mirror or rotational symmetry to them it is possible to achieve two different sets of corner twist by mirroring / inverting / rotating the same base sequence into two different versions. In the cases where the same base sequence does different sets of twists I have labeled those twists together but I have still provided each version independently for ease-of-use. I have labeled corners that don't twist as 0, corners that twist clockwise as 1, and counter-clockwise as 2. All screenshots are for the no-twist (000) variation.
For the 3-cycle patterns that don't have mirror symmetry then there is a left-hand version of the same pattern that I have omitted. By mirroring the sequences I have provided you can achieve all 9 twist variations for the left-hand 3-cycle pattern.
Also, for the sake of brevity, I have only included the clockwise 3-cycles. To perform the counter-clockwise sequences simply invert a clockwise sequence.
Below are all 15 3-cycle patterns with the 9 twist variations. Each sequence listed is the shortest possible for that variation.
Tall Triangle (mirror symmetry):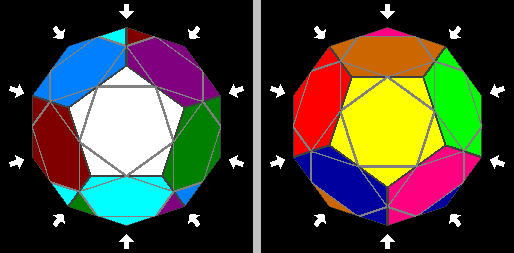 Twists: 000 (12 moves):
000 : [I2, H'2, B', I2, B, L', H2, J, H'2, J', L, I'2]
Twists: 012 / 210 (10 moves):
012 : [D, K2, A', D, K2, D', G'2, A, D', G'2]
210 : [J'2, E', A, J'2, E', K2, E, A', K2, E]
Twists: 021 / 120 (13 moves):
021 : [G, C', H', D'2, H, D2, C', K, G2, K', D'2, C2, G']
120 : [J', F2, E'2, K', J2, K, F', E2, I, E'2, I', F', J]
Twists: 102 / 201 (13 moves):
102 : [D'2, C, D, C'2, E', A, C'2, A', C2, E, D', C, D2]
201 : [E2, F, E', D, F2, A', F'2, A, D', F'2, E, F, E'2]
Twists: 111 (13 moves):
111 : [B', I', A'2, I', B, A'2, H', A2, H, B', A2, I2, B]
Twists: 222 (11 moves):
222 : [G, K', C, D'2, H', D2, H, C', D2, K, G2]
Right Arc (no symmetry):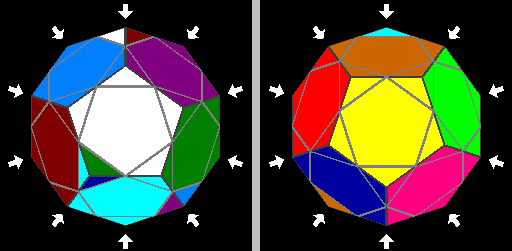 Twists: 000 (13 moves):
000 : [G', L'2, J, L, G', H, G, L'2, J', L2, H', G, L]
Twists: 012 (12 moves):
012 : [C, D, B2, D', A, B2, D', G'2, A, D', G'2, C']
Twists: 021 (12 moves):
021 : [K', G', E, K'2, L', J2, L, E', K2, G, D'2, K]
Twists: 102 (14 moves):
102 : [H'2, B, L', I', G', I, G, L, B'2, H', B, H, B, H]
Twists: 111 (13 moves):
111 : [B', F', I, F2, I', A, B2, I', B'2, I, A', F', B]
Twists: 120 (11 moves):
120 : [E2, K'2, A', K2, A, E', K2, F, K'2, F', E']
Twists: 201 (12 moves):
201 : [G'2, C', K, G2, K', D'2, C, H', D'2, H, D2, G2]
Twists: 210 (11 moves):
210 : [C', A', H, B'2, H', B2, A, H', C2, H, C']
Twists: 222 (10 moves):
222 : [L', J'2, L, K2, H', L, K2, L', J'2, H]
Short Triangle (mirror symmetry):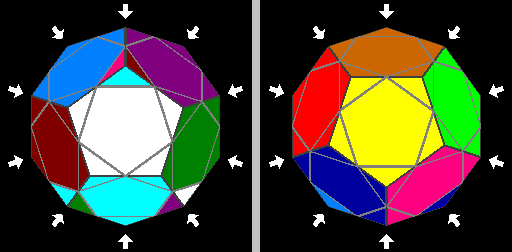 Twists: 000 / 201 (12 moves):
000 : [H', G, C', L'2, C, L2, G', I, H2, I', L'2, H]
201 : [I, L'2, H', I2, H, J', L2, F, L'2, F', J, I']
Twists: 012 / 111 (12 moves):
012 : [H, L, C2, H', I, C2, I', C'2, H, L', C'2, H']
111 : [I', F'2, L', I, F'2, H', F2, H, I', F2, L, I]
Twists: 021 (13 moves):
021 : [F, J, E2, J, I', E2, J, B'2, I', J, B'2, J'2, F']
Twists: 102 (14 moves):
102 : [H', G', C, H', L', B', L, B, H, C'2, H', G, L, H2]
Twists: 120 / 222 (13 moves):
120 : [I', F2, H, F2, I', L, F2, L', F'2, I, H', F, I]
222 : [H, C, I', H, C'2, L', C2, L, H', C2, I, C2, H']
Twists: 210 (10 moves):
210 : [H, B'2, G', C, B'2, C', B2, G, H', B2]
Mirrored L (no symmetry):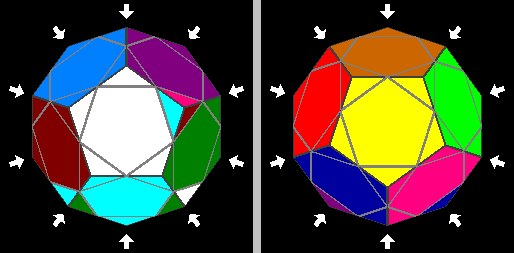 Twists: 000 (13 moves):
000 : [H', L, I', B, L2, B', L'2, I, G', H'2, G, L, H]
Twists: 012 (11 moves):
012 : [E2, J'2, E', A, J'2, E', K2, E, A', K2, E']
Twists: 021 (13 moves):
021 : [C', H2, C', D'2, C, A2, H', C, A2, C', D'2, H', C]
Twists: 102 (10 moves):
102 : [C, B', G'2, B, G2, C', A, G2, A', G'2]
Twists: 111 (11 moves):
111 : [C'2, G'2, B', G2, B, C', G2, A, G'2, A', C'2]
Twists: 120 (13 moves):
120 : [F, J2, E2, J, I', E2, J, B'2, I', J, B'2, J2, F']
Twists: 201 (13 moves):
201 : [G, H', G'2, I, B, L, B', L', I', G, H', G, H]
Twists: 210 (13 moves):
210 : [E', K, E, J'2, E', A, J'2, E', K2, E, A', K, E]
Twists: 222 (13 moves):
222 : [C', H', C'2, H', C2, D, H', G2, H, G'2, D', H2, C]
Headphones (mirror symmetry):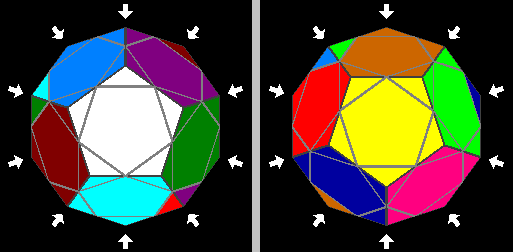 Twists: 000 / 201 (12 moves):
000 : [D2, A, G', D2, G, D'2, A', G, C'2, G', C2, D'2]
201 : [F'2, B2, I', B'2, I, A', F'2, I, F2, I', A, F2]
Twists: 012 / 111 (13 moves):
012 : [G, D', G', K'2, H, G', K'2, G, D2, H', G, D'2, G']
111 : [I', F'2, I, H', F2, I, J'2, I', H, J'2, I', F', I]
Twists: 021 (13 moves):
021 : [J', L', E', F'2, K, E', F'2, E, L2, E', K, L'2, J]
Twists: 102 (12 moves):
102 : [H, I'2, G', H, I'2, H', I2, G, L', I2, L, H']
Twists: 120 / 222 (11 moves):
120 : [E, J, E2, J', A, F2, J', F'2, J, A', E2]
222 : [E2, A', K, D'2, K', D2, A, K', E2, K, E]
Twists: 210 (13 moves):
210 : [H'2, G2, C'2, B', H2, B, G', C2, L, C'2, L', G', H2]
Bowl (mirror symmetry):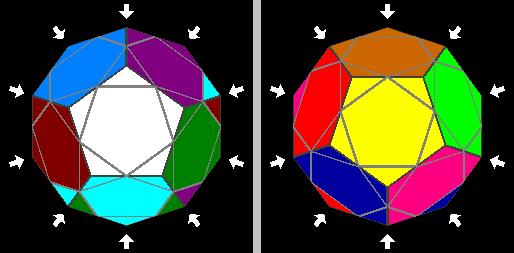 Twists: 000 (13 moves):
000 : [H, C, H', C'2, L, I, G, I', G', L', C, H', C]
Twists: 012 / 102 (11 moves):
012 : [K, E, J'2, E', L, K'2, D', G2, D, L', K]
102 : [G, L', D, K2, D', G'2, L, C', H'2, C, G]
Twists: 021 / 201 (12 moves):
021 : [C', B'2, H', B2, A, H', C2, H, C'2, A', H, C]
201 : [E, J, A', E'2, J, E2, J', A, F2, J', F'2, E']
Twists: 111 (11 moves):
111 : [E'2, J'2, E', A, J'2, E', K2, E, A', K2, E'2]
Twists: 120 / 210 (12 moves):
120 : [J2, I'2, E', J, I'2, K', I2, K, J', I2, E, J'2]
210 : [H'2, C, I2, H', G, I2, G', I'2, H, C', I'2, H2]
Twists: 222 (13 moves):
222 : [F, J'2, E2, J, I', E2, J, B'2, I', J, B'2, J, F']
Space Probe (mirror and rotational symmetry):
Twists: 000 / 021 / 102 / 111 / 210 / 222 (11 moves):
000 : [D', E'2, D', E2, C, A', E2, A, E'2, C', D2]
021 : [H2, C', I'2, B, I2, B', C, I2, H', I'2, H']
102 : [J2, I', E'2, F, E2, F', I, E2, J', E'2, J']
111 : [J', I'2, J', I2, E, F', I2, F, I'2, E', J2]
210 : [D2, E', C'2, A, C2, A', E, C2, D', C'2, D']
222 : [H', C'2, H', C2, I, B', C2, B, C'2, I', H2]
Twists: 012 (13 moves):
012 : [C', D', H2, G', B, C2, B', H'2, G, D', H'2, D2, C]
Twists: 120 (14 moves):
120 : [I'2, L'2, B', J'2, F, L', I'2, L, J2, F', B, J2, L2, I2]
Twists: 201 (13 moves):
201 : [E', F', E2, F, J'2, E, A', E', F, J2, F', E', A]
Big Mirrored L (no symmetry):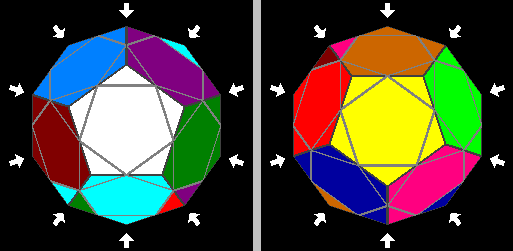 Twists: 000 (13 moves):
000 : [D', E', D, E2, C', K', G, D', G', K2, C, E'2, A]
Twists: 012 (12 moves):
012 : [B, H, I2, H', F, B2, H', B'2, H, F', I'2, B']
Twists: 021 (12 moves):
021 : [J', I', K, J'2, K', J2, I, K', L2, K, L'2, J]
Twists: 102 (12 moves):
102 : [D, C, K', D'2, K, G2, C', A, G2, A', G'2, D']
Twists: 111 (11 moves):
111 : [E', J'2, E', A, J'2, E', K2, E, A', K2, E2]
Twists: 120 (13 moves):
120 : [C', H', D', C'2, H, C2, H', D, G2, H', G'2, H2, C]
Twists: 201 (12 moves):
201 : [E2, J, A', E'2, J, E2, J', A, F2, J', F'2, E'2]
Twists: 210 (12 moves):
210 : [K', L', K2, E, J'2, E', L, K'2, D', G2, D, K]
Twists: 222 (12 moves):
222 : [G, D'2, C, H', D'2, H, D2, C', K, G2, K', G']
Right Scoop (no symmetry):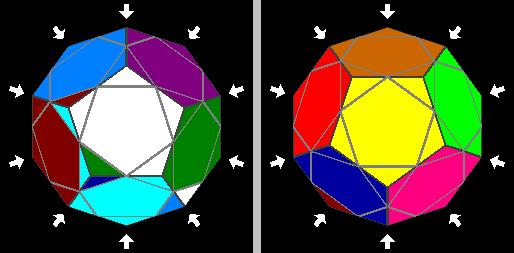 Twists: 000 (14 moves):
000 : [G', H', G, H, G, L', K', D', G, D, K, L, G', H']
Twists: 012 (13 moves):
012 : [D, A'2, D, C2, D'2, C'2, E2, C', A2, E, A'2, E'2, C2]
Twists: 021 (13 moves):
021 : [G', H2, L'2, H', L2, C, G', L2, G, L'2, C', H', G]
Twists: 102 (12 moves):
102 : [F2, B', I, A2, F', A'2, F, I', A'2, B, A2, F'2]
Twists: 111 (13 moves):
111 : [G', C', L', G, C'2, G', C2, L, H', C2, H, C', G]
Twists: 120 (12 moves):
120 : [G', L', C'2, G, C2, G', L, C2, H', C'2, H, G]
Twists: 201 (14 moves):
201 : [F', E2, F2, D'2, A, F', A', E, D2, F'2, E'2, A', E, A]
Twists: 210 (14 moves):
210 : [E, J, K, J'2, K', D, J'2, K', A2, D, K', A2, J', E']
Twists: 222 (13 moves):
222 : [H2, C, I2, H, C', I2, C, L'2, H', C, L'2, C'2, H'2]
Big Space Probe (rotational symmetry):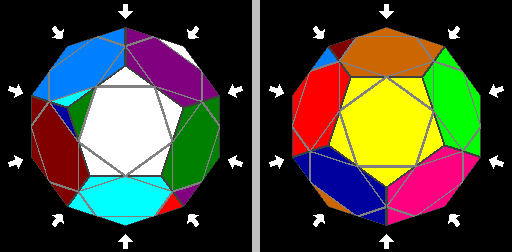 Twists: 000 (13 moves):
000 : [D'2, C', E', K'2, A, E', K'2, E, C2, E', A, C'2, D2]
Twists: 012 / 120 / 201 (12 moves):
012 : [J, K, L'2, I', J2, I, K', L2, E, L'2, E', J']
120 : [D, C, G'2, K', D2, K, C', G2, A, G'2, A', D']
201 : [B, I, H'2, C', B2, C, I', H2, F, H'2, F', B']
Twists: 021 / 102 / 210 (13 moves):
021 : [I, B', J, B2, F', H, I2, H', B'2, F, J', B', I']
102 : [C, D', B, D2, A', G, C2, G', D'2, A, B', D', C']
210 : [K, J', D, J2, E', L, K2, L', J'2, E, D', J', K']
Twists: 111 (13 moves):
111 : [L, G', L'2, J', G, K'2, G', K2, J, G', L2, G2, L']
Twists: 222 (12 moves):
222 : [H2, B'2, I, L', B'2, L, B2, I', C, H2, C', H'2]
Skinny Triangle (mirror symmetry):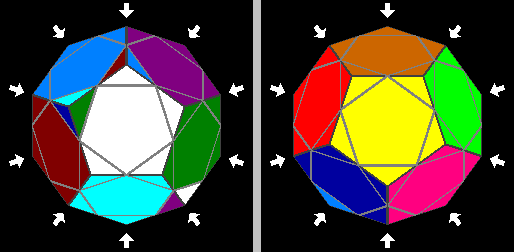 Twists: 000 / 210 (12 moves):
000 : [B', A2, H', C, A2, H', I'2, C, H', I'2, H, B]
210 : [F, J, I'2, J', E, I'2, J', A2, E, J', A2, F']
Twists: 012 (14 moves):
012 : [B', H', B'2, C', F, A'2, F', A2, C, F', B2, F, H, B]
Twists: 021 / 111 (13 moves):
021 : [G2, H, G2, K, H', L2, H, L'2, K', H, G'2, H'2, G'2]
111 : [K'2, J'2, K'2, J, G', L'2, J, L2, J', G, K2, J, K2]
Twists: 102 / 222 (14 moves):
102 : [D, K'2, G'2, A, D', G'2, D, K2, A', D, K2, D', K2, D']
222 : [D', G2, D', G2, D, A', G2, D, K'2, D', A, K'2, G'2, D]
Twists: 120 (14 moves):
120 : [K2, L, K, G2, K', D'2, J, K', D'2, K, G2, J', L', K'2]
Twists: 201 (14 moves):
201 : [B', F', I, B', C'2, I, A2, I', B, A2, I', C'2, F, B]
Tiny Triangle (mirror symmetry):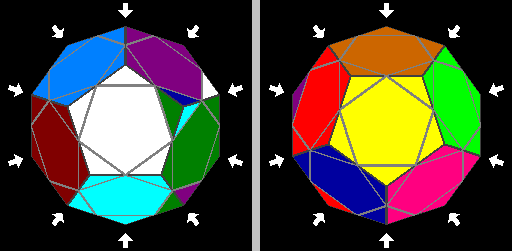 Twists: 000 / 210 (12 moves):
000 : [I, F'2, B', F2, H, I', F2, I, F'2, H', B, I']
210 : [B', I, H', F'2, B, F2, B', H, F2, I', F'2, B]
Twists: 012 (14 moves):
012 : [D, E, D', E', K', E, C, G, A, G', E', C', E', K]
Twists: 021 / 111 (13 moves):
021 : [K2, J'2, L2, J, L'2, E', K, L'2, K', L2, E, J, K'2]
111 : [D'2, A, E, C2, D', C'2, D, E', C'2, A, C2, A'2, D2]
Twists: 102 / 222 (12 moves):
102 : [D'2, A', E2, A, E'2, C', D, E'2, D', E2, C, D2]
222 : [K2, L, E2, K', E'2, K, L', E'2, J, E2, J', K'2]
Twists: 120 (13 moves):
120 : [B', C2, B'2, I', C, H'2, C', H2, I, C', B2, C', B]
Twists: 201 (13 moves):
201 : [K2, E, L, K', E2, K, E'2, L', J, E'2, J', E, K'2]
Right Crescent (no symmetry):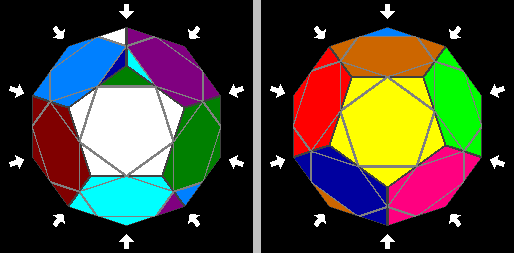 Twists: 000 (13 moves):
000 : [L2, C2, H', G'2, H, L'2, H2, L2, C'2, L', C2, L', H'2]
Twists: 012 (12 moves):
012 : [G2, K'2, L, D', G'2, D, K2, L', H, K2, H', G'2]
Twists: 021 (13 moves):
021 : [C'2, A', H', A'2, C, G', A'2, G, A2, C', H, A'2, C2]
Twists: 102 (14 moves):
102 : [E', K, E2, K', E'2, K, A', D'2, K, D2, K', A, K', E]
Twists: 111 (14 moves):
111 : [G', D', L'2, H, L2, H', C, L2, G', L'2, G, C', D, G]
Twists: 120 (14 moves):
120 : [H2, C, I', G', B, G2, B', G', I, C', G', C2, G, H]
Twists: 201 (13 moves):
201 : [C'2, I, F'2, I2, F2, A'2, I', C2, B', I'2, B2, C2, B']
Twists: 210 (13 moves):
210 : [J'2, I', J2, E', I'2, J2, I2, E', I'2, E, J'2, I2, E2]
Twists: 222 (13 moves):
222 : [C'2, I, A2, F'2, I'2, F2, I', C2, B, C'2, B'2, I2, B]
Long Spear Triangle (mirror symmetry):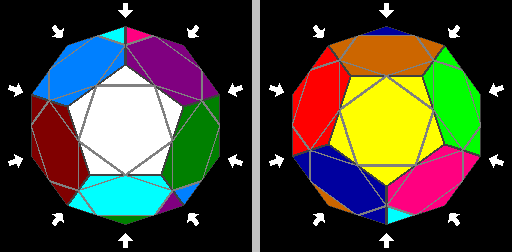 Twists: 000 / 210 (14 moves):
000 : [J, I2, H', K', H', K, I, H, I'2, J', I', L', I, L]
210 : [A', B'2, H, D, H, D', B', H', B2, A, B, C, B', C']
Twists: 012 / 201 (13 moves):
012 : [J, I', E', L'2, E, J', L'2, E, I2, E', J, I'2, J']
201 : [A', B, E, C2, E', A, C2, E', B'2, E, A', B2, A]
Twists: 021 / 222 (13 moves):
021 : [C, A'2, G, C', A2, H, A'2, H', C, A'2, G', A', C']
222 : [L', J2, G', L, J'2, H', J2, H, L', J2, G, J, L]
Twists: 102 / 111 (14 moves):
102 : [H', I2, B', I2, B, L', H2, C, G'2, C', L, H'2, I'2, H]
111 : [H, B'2, I, B'2, I', C, H'2, L', G2, L, C', H2, B2, H']
Twists: 120 (15 moves):
120 : [B, F2, A2, F'2, I', C2, B', C'2, I2, C2, I'2, B, C'2, I', B']
Wide Tiny Triangle (mirror symmetry):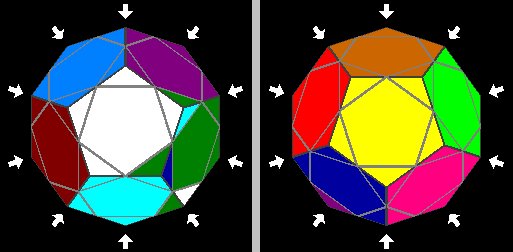 Twists: 000 (14 moves):
000 : [E'2, D, K', D2, K, J', D2, K, F'2, J', K, F'2, D', E2]
Twists: 012 / 021 (14 moves):
012 : [I', F', B2, J', I, B2, J', H'2, J, I', H'2, J, F, I]
021 : [E, F, J, D'2, E', J, D'2, J', A2, E, J', A2, F', E']
Twists: 102 / 120 (13 moves):
102 : [C'2, B, H2, A, C', H2, C, H'2, A', B, H'2, B'2, C2]
120 : [C2, A'2, D'2, A, B', D'2, C, D2, C', B, D2, A, C'2]
Twists: 111 (14 moves):
111 : [C, A', C'2, G, H2, B', A, H2, A', H'2, B, G', A, C']
Twists: 201 / 210 (14 moves):
201 : [J, F2, L', J, L, K', F'2, J, F, K', F, K, F'2, J'2]
210 : [J'2, F'2, L, F, L', F, J, F'2, L', K, J, K', F2, J]
Twists: 222 (14 moves):
222 : [C'2, A', C', B, D2, A', D'2, A, B', D'2, C, D2, A, C2]