I keep experimenting with the 2x2x1 because it's a perfect mechanism for testing new ideas: it uses a minimum of material, it doesn't require extra hardware, and I can build test models quickly.
TomZ wrote:
By the way, I just assembled my copy of your 2x2x1 and it works quite nicely. Snapping it together was scary but it works really well.
I ordered the hollow version, and I've got some feedback on that: The open faces detract from the final puzzle. I could have ordered the solid version, but ordering anything that is not hollowed out is against my principles as I don't like wasting money.
I think you should make a version where the faces are closed, but the puzzle is hollow. Shapeways doesn't mind if you do that and you can get a really good price. If I were you, I'd take the solid version and apply the shell command (at least, if you software can do that) to shell it out to 1mm (or less, I think that can be done with this puzzle) while not having any open faces.
Semi-solid version
I updated the
solid model
as you suggested and uploaded it to Shapeways. I cut away the interior as shown, but the exterior is solid so it doesn't have the opening to which TomZ objected. This means the support material will be entrapped within the shell, but it will build faster and cost less. Here's a cutaway of the STL showing the hollow interiors:
Attachment:
File comment: Cutaway of semi-solid puzzle showing hollow interiors
Solid_cutaway.png [ 32.75 KiB | Viewed 581 times ]
It's not
quite
as stable as the original solid model, probably because the center doesn't provide as much protection against distortion, but it's a bit more stable than the hollow version. The pieces don't "fly around" but they certainly turn freely.
Ghostly sphere version
When I built the solid version on my 3D printer I thought the clear center looked a little unbalanced because 3 pieces have internal mechanisms and 1 doesn't. So I added a hollow spherical shell inside all 4 pieces, which appears as a ghostly sphere
inside
the solid material. The mechanisms are still visible but the ghostly sphere wraps around them in a very cool way.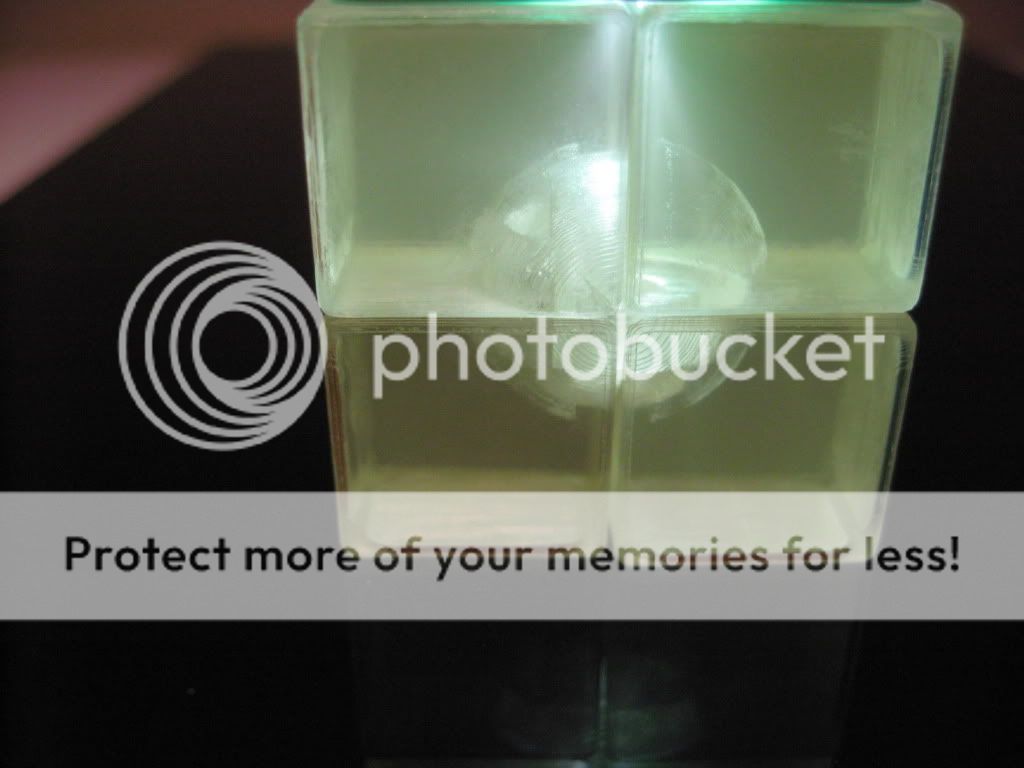 Recessed tiles version
And to make it even easier to finish each puzzle I added recessed areas on the sides so I can just snap tiles into the puzzle, which is easier than applying stickers. I made the tiles a few weeks ago by building clear, flat shapes and then painting the back sides. (The front is clear & shiny, so the color shines through.)