As part of an effort to figure out the best way to dye Shapways WSF material I need to know the temperature it starts to melt. I figured the best way to measure it would be to heat a few parts on the stove. Because water boils at such a low temperature I used baby oil (
mineral oil
).
Of course I made a
video
of the experiment.
Unfortunately I heated the pot too quickly so the bottom of the pot was hotter than the bulk of the mineral oil. Because of that the best I can provide is a range of temperatures. Also, the melting process was somewhat confusing. I was expecting the material to go from hard to a liquid but it seems to change properties over a wide range of temperatures.
As best I can tell, the material starts to soften but will still (mostly) hold shape at between 155C and 165C. It starts to deform and won't hold shape between 170C and 180C.
This is below the published range for common Nylon variants so the material must be some sort of special Nylon with a lower melting point.
I got the material up to about 190C which resulted in this: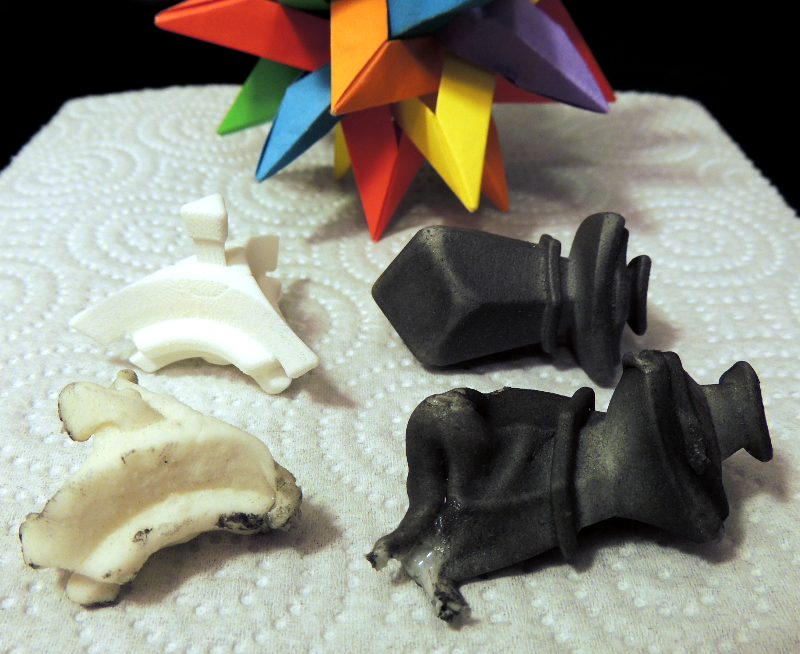 The black portions of the melted white piece are not burn marks. They're where the two pieces stuck together and some black grit transfered over.
The strange gradual melting / softening of the material really confuses me. I'm not sure how the laser in the printer is able to so completely melt the powder together so quickly. The printer must be extremely carefully tuned to achieve such accurate prints with sharply defined edges despite the lack of a sharp melting point.