Here was my method: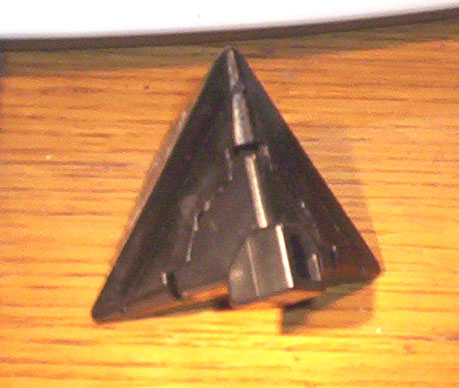 Instead of cutting the triangle tip I cut the corner piece instead. By using a "genuine" cube I retained the little cap that fits over the hollow part of the cube so I secured that down with superglue so it would make for one "solid" corner piece to work with.
Next I made sure that the two pieces of the triangle were fit together nice and snug before joining the triangle parts to each other with superglue. I found that the triangle parts can be slightly misaligned or not properly joined together, hence the extra care.
I found that shaping the corner piece to fit up against the triangle piece required less messy work than cutting the triangle piece to accept a whole corner piece. (this last sentence edited for clarity)
After shaping the corner piece it forms a "cup" which I completely filled with a 2 part epoxy (clear, 4-6 minute set, 1000psi). It's not as strong as the 3500 psi stuff that Duane works with but seriously, with so much surface area involved that's being joined I found very little need to look for something more exotic. A tiny bit of "overflow" will usually ooze out of the "cup" when it's joined to the triangle (make sure it's held upright for 5-10 minutes) but that overflow helps fill in cracks and help with the bond. Plus it's easy to scrape off any excess after about 20 minutes with a blade when it's still soft but not sticky.
I also found that if two epoxied pieces ever did come apart, rather than trying to epoxy again I used a little superglue. I'm not sure what it is, but superglue on a dry epoxy surface sets almost instantaneously (we're talking 1/4 a second or less) and forms an extremely strong bond between the epoxy and the puzzle plastic.
I COULD use a 2500 psi 2 part epoxy that I have that sets in 30 minutes, but there's no need to take that much more Time for a strong bond.