I admit I copied the title of
this thread
.
And the reason is that I was totally surprised to see that thread as I was myself about to post my 3 solutions simple stickers mod.
I only used a dayan zhanchi stickerless and a hole puncher so that it can be solved with plastic, stickers or dot colors.
Here is the result with clickable images to enlarge :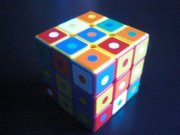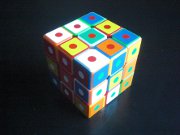 It's been a while I've been thinking about a cube with multiple solutions using a shape solution like the color blind confusion set sold at cubesmith store but it's too complicated for me to do.
I really like Olivér Nagy's idea of putting words on it and hope someone will try to add color to words and why not he will try to build a stickerless bump cube to mix with
this idea
some people had on this forum a while ago to make a 5 solutions mod.
Hope you enjoyed the idea.