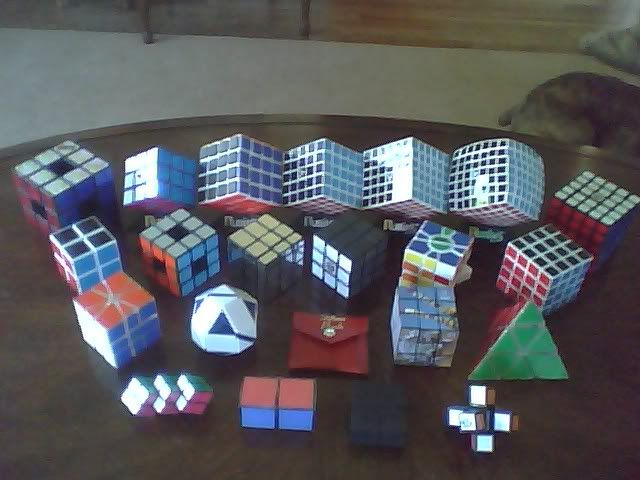 Here is my collection, I know it's hard to see, my only camera is my phone, so I will list them from left to right.
First row:
Rubik's Revolution
Violet Cube4you brand 3x3 DIY
White QJ (I think thats what brand it is) 4x4
White V-cube 5x5
White V-cube 6x6
White V-cube 7x7
Rubik's 5x5
Second row:
White Eastsheen 2x2
Void cube
Bump cube
Rubik's icon
Super Square-1
Eastsheen 4x4
Third row:
Translucent square-1
Rubik's snake
Fifteen puzzle
American Cancer Society Relay For Life picture cube
Translucent pyraminx
Fourth row:
Triple fused Eastsheen 2x2
Custom 2x1x1
Custom 2x2x1
Custom 1x1x1 cross cube
I realize I have a few knock-offs, and I got these from my dad (ebay) and when I was still new to cubing because I didn't realize that they were bad, so sorry about that.
I also have an octagon barrel cube and a Rubik's 3x3 (for a fisher cube) at my dads house.