Ok...
Oskar's Tunnel Cube
got me thinking.
We currently have this
DIY kit
which allows us to build any of the 3563 variations where neighboring Face Centers, Edges, and Corners are glued together.
But what if we wanted to include the core in this picture as well as fixing non-adjacent cubies in place relative to each other? Oskar's Tunnel cube raised my hopes that such a kit might be possible and it might even be doable inside the normal volume of the 3x3x3, i.e. one might be able to avoid using bridges and the unintentional bandaging created by bridges interfering with each other.
I through this quick table together and convinced myself that there are really only 16 types of Glue/Bridge/Tunnel Bandaging on a normal 3x3x3 and many of these are very closely related.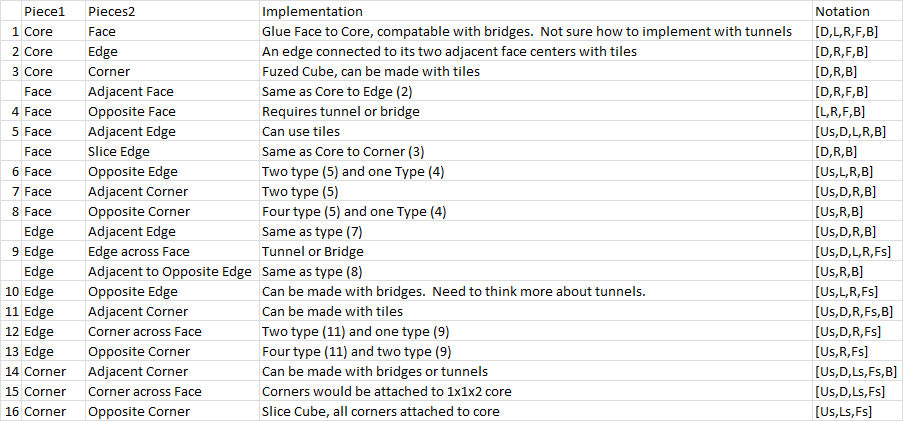 I believe I see ways to make all of them by themselves. However some of them don't seem to play well with others. A prime example would be is it possible to add Type (1) bandaging from the above table to Oskar's Tunnel Cube without resorting to the need to add external bridges? Same question for Type (4)? Can the Type (9) tunnel already present in Oskar's Tunnel Cube be replaced with Type (10)?
I was hoping all of these could be combined in a general way if the 3x3x3 had enough shells added to it as Oskar has added shells to his Tunnel Cube. I'm now not sure that is possible, or if it is I suspect that it requires the use of BOTH tunnels and bridges.
I'd LOVE to be proven wrong,
Carl