bmenrigh wrote:
There is a notion of a "Complex" puzzle which is a puzzle that contains real pieces + imaginary pieces (where imaginary is a somewhat complicated to describe).
For background:
The Complex Tetrahedron
The Complex 3x3x3
How to visualize the pieces of a complex puzzle
The thread to start with is this one:
Analysis of twistability and virtual pieces
In this thread Andreas start off explaining his way of analyzing twistability and we see how it can define new pieces not typically see in puzzles which we called virtual pieces. Matt Galla joined the conversation and he introduced his way of analyzing twistability which was a bit more general and introduced even more new pieces. We called those pieces imaginary pieces. I guess to be accurate it should be started that the virtual pieces are a subset of the imaginary pieces. However I typically think of there being three types of pieces:
(1) Real = pieces given real physical volume when 3-space is cut up with the N cut planes of an order N puzzle regardless of the spacing of the cut planes.
(2) Virtual = pieces defined by Andreas method of analyzing twistability but excluding the real pieces. The two cores of a skewb for example. Neither contains any volume as the cut planes pass through the origin.
(3) Imaginary = pieces which REQUIRE Matt Galla's method of analyzing twistability. I reserve this name for the subset which excludes the virtual and real pieces.
bmenrigh wrote:
The reason I mention complex puzzles is that building slice-only puzzles often creates completely new pieces types that correspond to pieces in the complex version of the puzzle.
For example, the
The Multidodecahedron
has all of the "simple" pieces from the Complex Dodecahedron.
"Simple" isn't the correct word. These are the "Real" pieces.
bmenrigh wrote:
In general, the slice-only or circle version or slice+circle version of multi-layer puzzles can often create tons of new piece types.
And using my definitions above, these new pieces are ALWAYS Virtual, and NEVER Imaginary. At least I'm 99% sure of that. You have to get even more extreme to bring the Imaginary pieces into play in a real physical puzzle and to date I don't think its been done. In this way, the Virtual pieces are much more like the Real pieces then Imaginary pieces.
To complete the terminology... the words Complex and Augmented do not apply to pieces but to puzzles.
(1) Complex = A puzzle containing both Real and Imaginary pieces (can also contain Virtual pieces).
(2) Augmented = A puzzle containing both Real and Virtual pieces.
And while we are on terminology the use of the word "slice" or "slice-only" in this thread isn't in agreement with what I typically think of with regard to those terms. I'm not sure if I'm the odd man out or not though in this case. Lets look at Eric Vergo's Master Starminx again.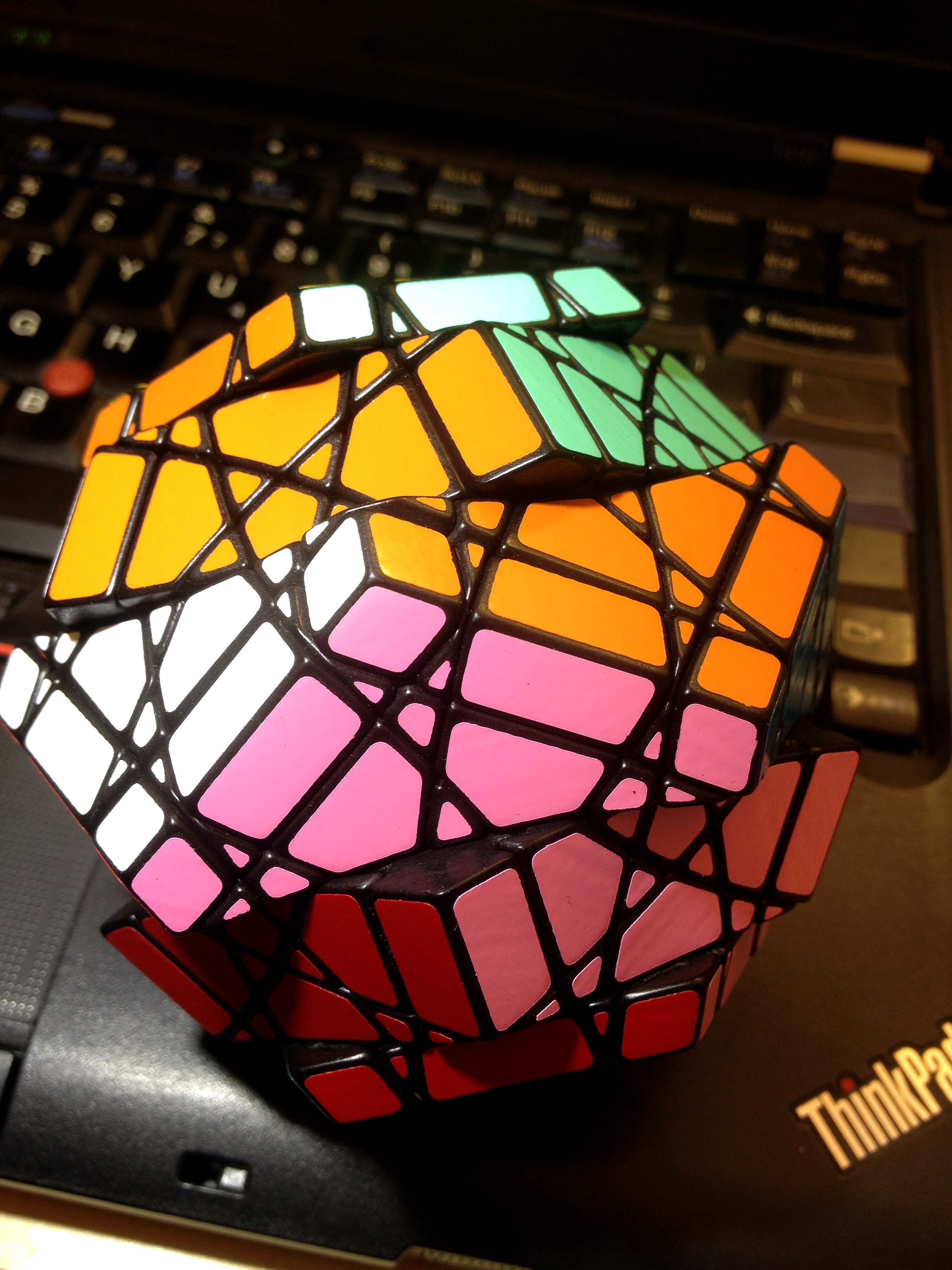 This is what I'd call an order=4 puzzle as each axis is cut up with 4 cut surfaces. This divides the puzzle up into 5 layers per axis of rotation. I call the middle one the slice layer. Its about the equator of the puzzle. On each side of this you have 2 face layers, an inner and an outer. So what we are talking about here is actually what I'd call an inner face layer. Well except in the case of the Dino puzzle talked about in the first post. That is a slice layer. Am I alone in my use of these terms? Used the way I define this a "slice-only" puzzle always has pieces on opposite sides of the puzzle locked together.
I already know my use of the word "order" isn't in agreement with others here and we already seem stuck with a handful of different definitions for it. Does the word "slice" already fall in this catagory too? Or am I the only one using my definition? If so I can conform... but maybe we need a new term... how about "equatorial slice"?
Carl